Come and sleep in the heart of nature this autumn in cocooning mode
We're there now, it's official, autumn began a few days ago.
We can't keep the secret any longer, a season full of charm lies ahead, where nature will soon prepare a unique spectacle not to be missed!
Imagine you are in the woods with brilliant shades of colour ranging from green through yellow and orange to red.
It is our reality at Les Cabanes des Grands Chênes, and to make the most of it, we suggest you try it and become spectators of our "nature television" from the terrace of one of our cabins. A private show that is worth the trip. Good news: it's a continuous display.
Getting away from it all for a night in a cabin perched in the trees, without giving up any comfort, is what we offer you at Les Cabanes des Grands Chênes. Our cabins are all equipped with water and electricity. All of the cabins are well-appointed to enable you to come with a free spirit and leave reinvigorated.
A hot shower 13 meters high, a bed all ready upon your arrival, end-of-stay cleaning included, what do you think about that?
Come and try it out this autumn, you'll not regret it!
Please note places are limited! 😉
qualif.cabanesdesgrandschenes.com/cabanes-reservations
For hiking enthusiasts, the team recommends a stroll in the heart of the Oise Regional Natural Park in one of the 3 forests near Les Cabanes des Grands Chênes (Halatte, Chantilly or Ermenonville). www.parc-oise-paysdefrance.fr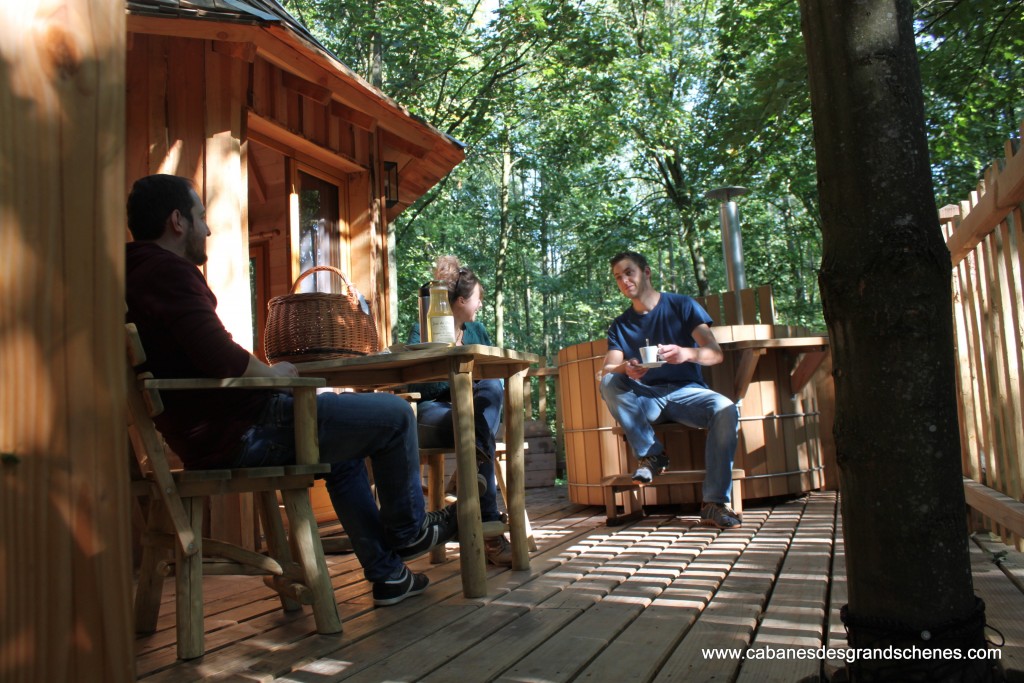 The team could not resist to taking a short break in the cabins, hard to resist the deckchairs and sun through the branches!