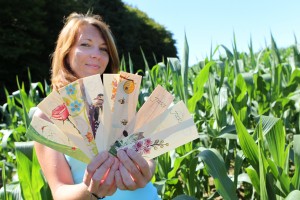 Wild Cherry & Maple, the perfect combination etch lasting memories of a night spent perched in an Oak!
Hand-made in the Jura, our wooden cards are an original and natural creation by the company Hironwoods, based in Cramans, in the Franche-Comté region of our Les Cabanes des Grands Lacs partner.
Meticulous wood veneer offers this incredible, flexible and solid result. The impression is incredibly accurate, and the finish almost supernatural!
Several types of wood are used to make the cards, which offer a very different appearance. For our part, we have chosen the Wild Cherry and Maple to print this unique gift.
You can discover all Hironwoods creations on the website: www.hironwoods.com! It is an original idea for all occasions, birthdays, weddings, births, etc. All the more so when you consider that the weight of the card and envelope is just perfect to be sent by mail.
The craftsman has also published his first book of recipes, fully printed on wood and designed in partnership with the Hotel-Restaurant "Le Bois Dormant", located in Champagnole. The cover and inserts are beautifully marked with wood rings and offer a different style for each edition.
This unique card and its envelope are two gifts that you can offer someone! An unforgettable night in a Cabin, with valid for an unlimited time, and an attractive souvenir that gives a foretaste of nature. Go here to order: https://qualif.cabanesdesgrandschenes.com/offrir-bon-cadeau/